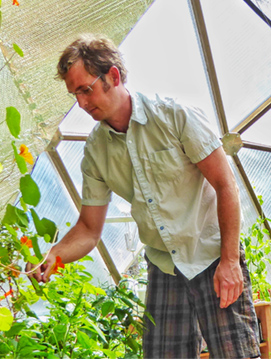 Brian Dillon
Gardening and Permaculture
Brian first became fascinated with flora while living on the island of Kaua'i where he spent time learning how to propagate plants in the campus greenhouse, and in his backyard vegetable garden. He had the rare opportunity to care for a number of large residential properties while there, transforming them into magical tropical gardens.
As Brian's connection to nature and permaculture deepened, his work evolved towards organic and sustainable farming projects which  he explored throughout his travels to British Columbia and New Zealand.
Brian finds great joy in every step of the process of cultivating plants, and of course, eating the bounty and sharing with friends and family! Whether you have land, a backyard, or a balcony or deck space, Brian can help guide you toward growing your own food, culinary herbs, and flowers.