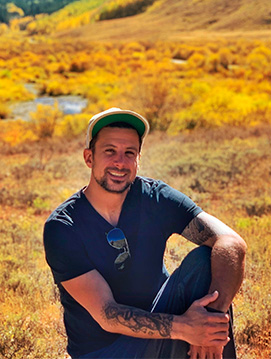 Landscaping is life, art, and wellbeing, all in one garden. This has been Noah's ethos throughout his journey and what he aims to integrate into every detail of his work in the world. From the bustling big box architecture firms in midtown Manhattan to high profile roof gardens on 5th Avenue, Noah learned not only how to redefine spaces but to manage, design and deliver complex projects from start to finish. Noah has never turned down an opportunity to beautify, improve or transform a space through the lens of landscape and has gained an appreciation for the complexity of large scale commercial jobs down to the finests details of a gardening visit.
Passion led Noah to travel the world for a year where he soaked in everything from the zen gardens of Japan and rice fields of Bali, to the ancient terraced permaculture of Peru. Returning home to Colorado ignited the spark that would lead Noah to redefine his work and  provide the creative yet sophisticated level of design/build service he cultivated in NYC and abroad. Skyscape Gardens, now a local leader in everything green, owned by Noah and managed with a team of construction, permaculture and design specialists, integrates his passions to design, build and redefine landscape spaces.
Noah holds a B. A. from The University of Massachusetts and a Master's in Architecture and Planning from the University of Colorado. He resides in Cherry Creek North and remains a seeker of those special elements that bring about a sense of life, art and wellbeing.